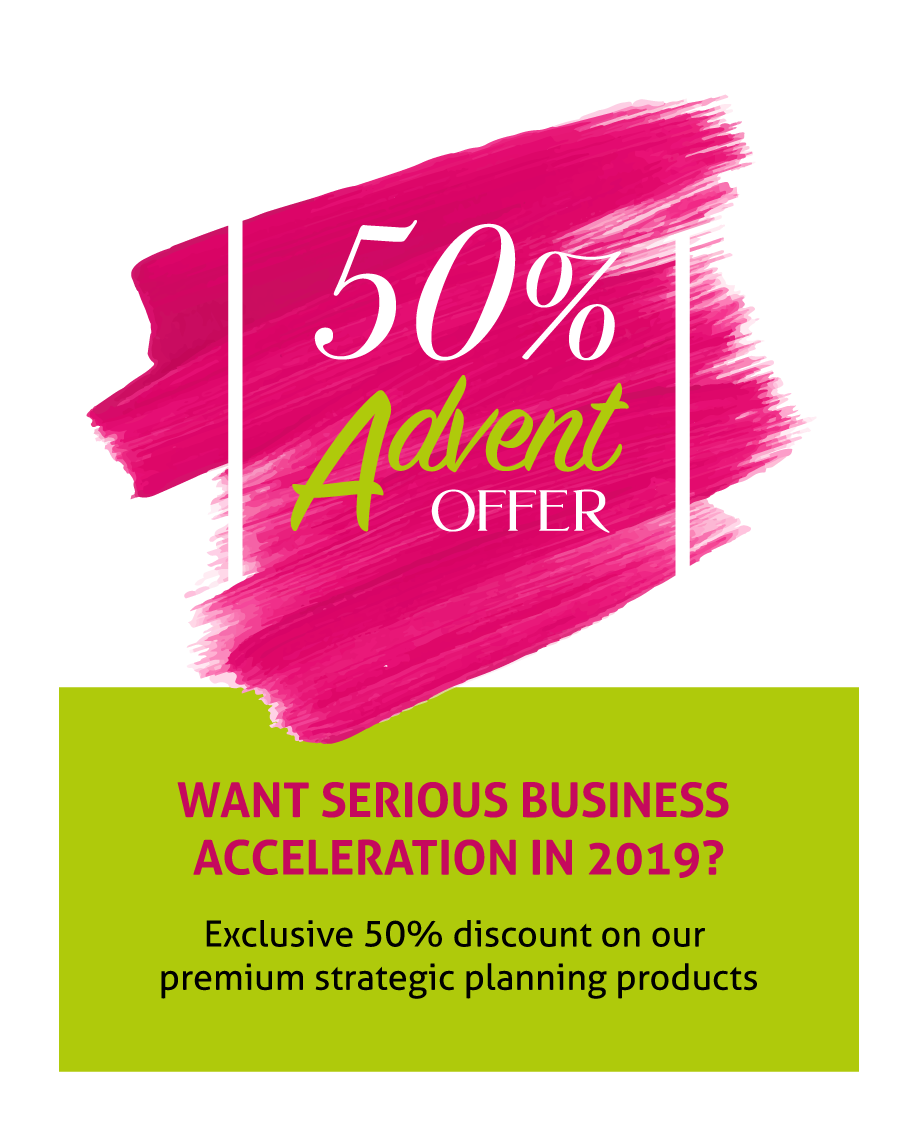 "Using Lionique's talents in your organisation is a recipe for success."
– Ashley Cook
ASTONISHING BUSINESS GROWTH IS WITHIN YOUR REACH
IF YOU WANT 2019 TO BE THE YEAR YOU FINALLY SEE SERIOUS ACCELERATION, NOW'S THE TIME TO TAKE ACTION.
At Lionique, we love helping ambitious, exciting businesses grow. As in, REALLY grow. As in, 300x turnover in 2 years after we're done with them. Seriously.
But we realize not every business leader has the budget to invest in premium strategic consultancy. Our pricing puts us out of range for many business owners who would really benefit from our help – and who would be able to do some serious scaling up with the right plan in place.
But hey – it's Christmas. And we're on a mission to build a world where every business owner is proud of their company. So, we've decided to offer a limited number of seats in our strategic programmes at 50% off – including our new specialized programmes for businesses seeking Seed or Series A+ funding. If you're the right fit for us, we'll help you build the business of your dreams in 2019 – and charge you half what you'd normally have to pay.
Sound intriguing? Fill in the form to set up a free consultation call with us. We'll talk you through our process, and if it sounds like what you've been looking for, we'll reserve a slot for you in 2019 at the discounted rate.
AND, IF YOU'RE NOT DELIGHTED FROM THE VERY FIRST DAY WE START WORKING TOGETHER, YOU'LL GET YOUR MONEY BACK – GUARANTEED.
"Sasha has an extraordinary ability to understand the essence of a business. Her strategic intelligence, intellect and marketing expertise is second to none and Sacha uses these skills to great effect, teasing out those elements which will lay a strong and stable base for a business' expansion and further development.

Above all Sasha and her company Lionique have passion.
There are many strategic marketing agencies who will feed back to you what they think you wish to hear. Lionique doesn't. Sasha chooses those businesses and individuals she wishes to work with, giving those companies her all and helping to develop their strategy and a route map to deliver on their vision. She is in addition patient and understanding of the conflicting pressures on a business and the individuals within it.

What has amazed me on the journey so far with Sasha is the strength of her commitment and her wish to build an ongoing relationship with the companies with whom Lionique partners. My journey so far under Sasha's direction has been inspiring, thought provoking and extremely educational.

A business or an entrepreneur who has vision, passion and a wish to expand under the guidance of an inspirational marketing expert, will be lucky to have Lionique and Sasha as their guide."
"One of the things that differentiates Lionique from other providers is their bespoke blank canvas, no nonsense approach.
Whiston Solutions operates in a niche market and provides a top tier service which needs to be reflected in our digital and corporate identity, with both our existing and potential clients.
We decided to review our public presence from scratch; redefining our vision and braindumping our expertise. Working with the Lionique system, we built up a sustainable strategy and a unique, sharp brand which truly reflected our company's personality and values. We have experienced at first hand, the dedication of Lionique and their attention to detail in delivering a high-end, quality product.
We have no hesitation in recommending Lionique for any premier strategy and branding service."
"Having worked with Sasha over the last year or so, I have come to respect her diligence, focus and creativity and look forward to reaping the rewards of our collective efforts to-date and on-going collaboration to professionalise our strategic thinking in terms of branding and marketing and the execution of our strategy. She is a STAR!"
"I have done a session of brand value proposition development with Sasha and the method she has developed is great to help us abstract the business vision. The excise was amazing and I am very satisfied with her contribution."
"Sasha has great expertise in forming a business strategy and helping implement them. In my session, I found the value that Sasha adds to transform business function.
I would recommend her for consulting roles."
"I worked with Sasha on my business Brand Values. The session was challenging, enlightening and fun. Sasha's skill in drawing out the detail of my business was amazing – I found new words to describe what I do. I now have a strong platform to move forward with.

I have taken the value propositions and am integrating them into my website, other social media and written documents.
Sasha was a joy to work with, she has given new direction and renewed energy to my business.

I would recommend that other business owners afford Sasha's time, it has been a really worthwhile, positive investment for me."
"I have known Sasha for a number of years now.

She is a very committed supplier of marketing consultancy and design for organisations that are keen to have a brand that is clean and flexible in its delivery. She has a very strategic mind and can get to the root of causes quickly and efficiently and come up with a strategy to satisfy these needs and if required follow up with a delivery programme.

Her methodology [MEMO]TM is a great toolkit which delivers value for money. Using Sasha's talents in/with your organisation is a recipe for success."
"I have worked with Sasha for the last 4 years. Through that time I have seen a wide range of her work on her client portfolio.

Her ability to fully understand her client's needs and aspirations and then build those into her brand and strategy ideas for their business is exceptional. She is incredibly passionate about what she does for her clients and she really sees projects as a collaborative process.

She has a wonderful flair and eye for detail and colour which shines through on her logo and website designs. She is also able to move between traditional and avant garde designs seamlessly.

Always seeing and getting the bigger picture Sasha is a tremendous asset to any team situation as she combines this visionary view with the ability to breakdown the strategy into meaningful and achievable tasks, which she articulates beautifully.

I wholeheartedly recommend Lionique."
The following premium products are available with this exclusive 50% discount:
Seed CANVAS™ Programme
Our signature programme. An intensive 10 days building a stronger business foundation, putting together a rock-solid strategy and getting ready for serious growth, fast – PLUS an extra day preparing business plan and presentation materials for seed funding.
Only 10 seats available* *London or San Francisco locations only. Also available online.
Right for you if: You are looking to raise seed-level finance or take your business to the next level.

Save up to £4,934
MEMO™ Expansions Plan
Designed for established businesses at post-investment stage or wanting to scale up, accelerate or expand. Boost your results, stop wasting resources and leap forward with our unique framework and [MEMO]™ methodology.
Only 5 seats available
Right for you if: You're serious about expansion and don't want to waste resources.

Save up to £11,985
MEMO™ Series A+ Pack
Intensive strategic planning programme for businesses looking for Series A+ funding. Includes premium business Powerclasses™, full go-to-market and communications strategy, all aligned to your business strategy. PLUS a VC-ready business plan and presentation materials.
Only 3 seats available
Right for you if: You are looking to raise Series A+ level finance and want to have a solid delivery plan for demanding VCs

Save £14,985
"Using Lionique's talents in your organisation is a recipe for success." – Ashley Cook
To find out more, just add your details to the form and we'll set up a quick, no-strings consultation call. If we feel like we're a match, and can help transform your business in 2019, you can pick the dates that work for you and reserve your slot with 50% off our usual prices. Remember, only the first 18 companies that get in touch will get the discount!
[MEMO]TM STRATEGIC PLANS & STRATEGIC PLATFORM [CANVAS]TM