STRATEGIC PLATFORM [CANVAS]TM INTENSIVE PROGRAMME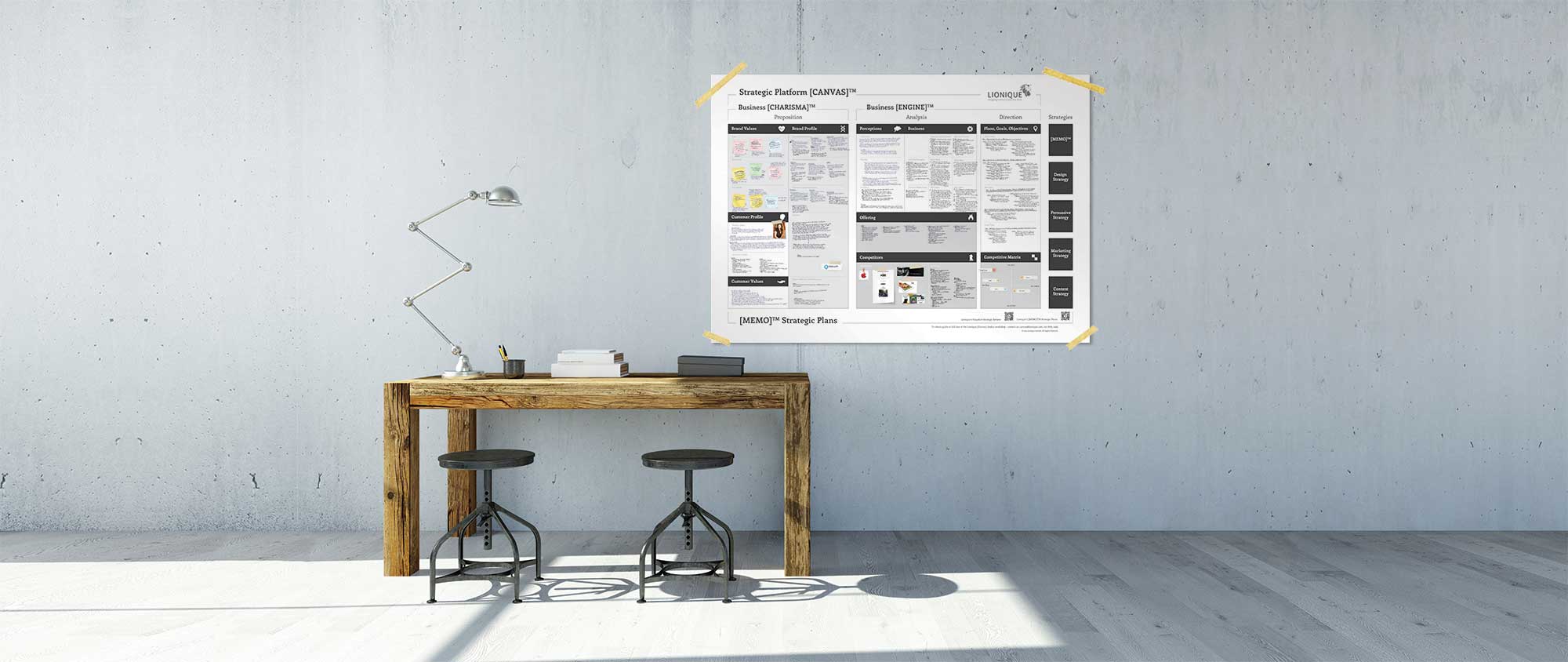 IS OUR [CANVAS]TM PROGRAMME FOR YOU?
ACCESS TO THE POWER OF OUR [MEMO]TM STRATEGIC PLANS IS NOW AT YOUR FINGERTIPS
10 DAYS INTENSIVE PROGRAMME covers the 10 sections of our [CANVAS]TM:
Brand Values; Brand Profile; Customer Profile; Customer Values; Perceptions; Business; Plans, Goals, Objectives; Offering; Competitors; Competitive Matrix – THE LIONIQUE'S WAY.
YOU WILL RECEIVE:
PRINTED [CANVAS]TM to work on and put on the wall at your office,
RESULTS TRACKING DOCUMENT for our and your accountability,
2 MONTHS EMAIL SUPPORT.
EACH DAY CONTAINS:
Half a day Mastergroup POWERCLASSTM,
1H 121 CONSULTING TIME after each Powerclass (only full consulting package),
TOPICAL ARTICLE written by our MD Sasha Kader, the creator of the [MEMO]TM,
4 TOPICAL TIPS.
UPCOMING PROGRAMME DATES & LOCATIONS
WHERE TO USE OUR STRATEGY
LIONIQUE'S UNIQUE APPROACH IS PROBABLY THE MOST ROBUST PROCESS YOU WILL EVER EXPERIENCE. AND, THE RESULTS COULD LAST YOUR BUSINESS A LIFETIME.
YOUR BENEFITS
Powerclasses are highly PRACTICAL, you'll be working on the business, not just talk how things should be done.
You will learn 'WHY' and its implications, not just 'HOW'.
The intensive programme approach is like a 'part-time holiday' – allows for that hard to find fully focused TIME on your business in the morning, whilst you can still do all needed on the afternoon.
Programme COMPLIMENTS & enhances your other consulting investments.
Working directly with the Leader of your business allows for real identification of 'TRUE' values, differentiation and focus, then build them effectively into your business.
Interconnected structure of the [CANVAS]TM and of the Powerclasses is highly EFFECTIVE and delivers great results.
"One of the things that differentiates Lionique from other providers is their bespoke blank canvas, no nonsense approach.
Whiston Solutions operates in a niche market and provides a top tier service which needs to be reflected in our digital and corporate identity, with both our existing and potential clients.
We decided to review our public presence from scratch; redefining our vision and braindumping our expertise. Working with the Lionique system, we built up a sustainable strategy and a unique, sharp brand which truly reflected our company's personality and values. We have experienced at first hand, the dedication of Lionique and their attention to detail in delivering a high-end, quality product.
We have no hesitation in recommending Lionique for any premier strategy and branding service."
"Having worked with Sasha over the last year or so, I have come to respect her diligence, focus and creativity and look forward to reaping the rewards of our collective efforts to-date and on-going collaboration to professionalise our strategic thinking in terms of branding and marketing and the execution of our strategy. She is a STAR!"
"I have done a session of brand value proposition development with Sasha and the method she has developed is great to help us abstract the business vision. The excise was amazing and I am very satisfied with her contribution."